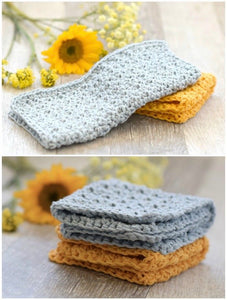 Handmade Crocheted Eco Friendly Washable Cotton Washcloth/Dish Cloths. Sold as a set of 3. Great handcrafted gift idea for your loved ones. Every women or men will love to have this washcloth as a bath accessory. Because they are made out of cotton they are perfectly gentle for anyone's skin, especially your little ones sensitive bodies. They wring out easily, dry easily and the colors hold up well. 
* Set includes 2 solid colors with cream trim, and 1 solid cream with trim of the primary color - pull down option is the primary color.
Size
7x7 Inches
Kitchen Use

- Soft and flexible to handle, yet tough enough to wash and remove food scums from dishes.
- Air dries without having that funky sponge smell.
Bath Use

- Soft and reusable washcloths, perfect for use as spa bath cloths and baby care.
-Use our handmade washcloth when cleansing your face or body.

*Why should you use washcloth?

Cotton washcloth is very soft. It cleans your skin, gently exfoliates and leaves your skin looking cleaner, clearer and brighter. Use them once a day in the evenings or in the mornings.

How to use washcloth?
Wet washcloth with water and pass your soap over it then you use it to wash your face/body gently.
Material, Size and Care instructions

- 100% Acrylic or Cotton.
- About 7 inches square.
- Machine wash or hand wash.
-Air dry/tumble dry.
PLEASE NOTE

-These items are hand crocheted and haven't been prewashed.
-All of our items are made in a smoke-free environment.
-Computer screens can alter the color of the actual item. Please be aware that shades may be slightly off.